The students really enjoyed being able to competitively represent the school, and benefitted greatly from an opportunity to share their views and ideas with students from other schools.
– Teacher, Renfrew High School
SCHOOLS' MACE DEBATING COMPETITION
The Schools' Mace is the oldest and largest debating competition for schools in the world. It offers pupils in S4 and above the opportunity to debate and explore controversial topics and current affairs.
The Schools' Mace is the oldest and largest debating competition in the United Kingdom, contested since 1957 across England, Ireland, Scotland and Wales; with over 600 schools entering annually.
ESU Scotland runs the Scottish leg of the competition, aimed at senior secondary school pupils (usually S4 upwards). It is run as a knockout competition through the academic year, with preliminary rounds leading to a Scottish Final. The Scottish National Champions go on to compete in the International Final, held on a four-year rotation, in each of the member countries.
The competition follows the two-team Mace format, which is simpler than the British Parliamentary style, but involves longer speeches, of seven minutes, and more advanced subject matter. In the process of the competition students develop their knowledge of the world, as well as their reasoning and presentation skills, in a fun and competitive environment.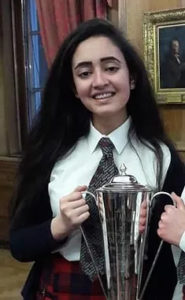 "Competing in the Mace was a delight. Not only is it a very prestigious extracurricular activity upon which employers and university admission officers look very favourably, but it also allowed me to develop my communication and critical thinking skills – which put in me in good stead for my university interviews. The feedback you receive, the practice you get over many rounds and the longer speeches, which allow more room for true analysis of your ideas, allow you to develop as a debater more than any school competition I've been in. My experience in the Mace leaves me with very fond memories and valuable lessons and it is an incredible opportunity I would encourage every young person to seize!"
– Aya, 2016-17 Schools' Mace Champion
2020-2021 Competition
Welcome to our 2019-20 Schools' Mace Competition!
This year we will be running the Mace Competition Online, using Microsoft Teams. We're confident that, despite this change, we'll still be able to have an extremely competitive competition with high-quality speaking and judging.
If you're interested in taking part and would like an entry form, please email jordan@esuscotland.org.uk.
KEY DATES FOR THE COMPETITION
Round 1
December
Round 2
January
Round 3
February
Final
Wednesday, 17th March 2021